It is the most wonderful time of the year! This Christmas season, our therapy team decided to put in some of our favorite toy recommendations and the therapeutic benefits for kids! We hope that you learn some new toys to play your child this holiday season!
Miss Melinda: Occupational Therapist
"Some of my favorite toys are Melissa and Doug pretend play food toys, like this Wooden Slice and Stack Sandwich Counter with Deli Slicer (Amazon.com: Melissa & Doug Wooden Slice & Stack Sandwich Counter with Deli Slicer – 56-Piece Pretend Play Food Pieces – Wooden Food Toys, Kitchen Play Food Set For Toddlers And Kids Ages 3+ : Toys & Games).  They allow for very open-ended play and by encouraging pretend play, they foster a variety of executive functioning skills like working memory, sequencing, attention, planning, and organizing, as well as encouraging fine motor, bilateral coordination, and social skills. And they are lots of fun so siblings and parents will want to join in, too."  
Miss Maggie: Occupational Therapy Assistant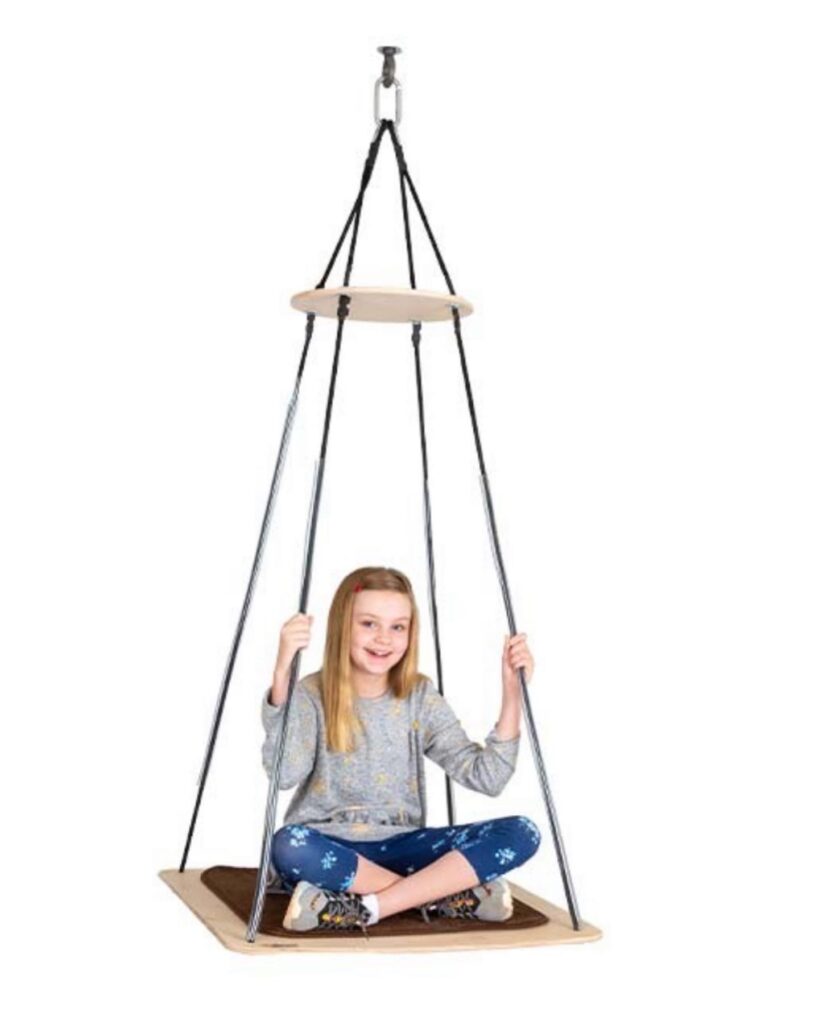 "The toy I pick is a platform swing . It is great for sensory processing , core, postural control, body awareness , and the motion could be calming to a child"
Amazon.com: 40 Inch Tree Swing Saucer Swing – 800Lb Weight Capacity, 900D Oxford Waterproof, With Hanging Straps Tree Swings for Kids Outdoor Swing For Kids Swing | Tire Swing | Tree Swing For Adults | Disc Swing : Toys & Games
Miss Katie: Speech-Language Pathologist
" Anyone who knows me knows that I LOVE to cook and incorporating pretend cooking in therapy! This simple toy kitchen can bring so much joy and language to your household. This toy allows the imagination to explore, and makes planning, organizing, working memory, and sequencing skills so much fun. Additionally, with this toy your child can learn new vocabulary, including new verbs such as 'stir, freeze, poke, touch', and adjectives such as 'hot, cold, sweet, spicy", and so much more! Additionally, research shows that children who are involved with cooking tend to have less aversive behaviors to foods and tend to be less picky eaters long term. Let your littles enjoy their own cooking space and make their own new meals (pretend or real) to share!
Vicky: Physical Therapist
"My recommendations would include musical instruments! Involving music in therapy and play can assist in synchronizing steps to improve walking speed, along with helping develop fine motor skills, sensory coordination, concentration. Music instruments can be fun to include in everyone's functional goals!
Amazon.com: Kids Musical Instruments, 33Pcs 18 Types Wooden Percussion Instruments Tambourine Xylophone Toys for Kids Children, Preschool Education Early Learning Musical Toy for Boys and Girls : Toys & Games
Kayla: Physical Therapy Assistant
"My suggested toy would be the Gentle Monster Stepping Stones for kids. This toy would allow for overall improvement of balance, coordination, and strength. Ultimately improving kids Gross motor planning/function. These can be moved in different patterns or made into an obstacle course so it can be different and challenging to each individual skill level or perceived skill level." 
Amazon.com: Gentle Monster Stepping Stones for Kids, Set of 6 Pcs for Balance with Non-Slip Bottom – Exercise Coordination and Stability, Perfect Indoor and Outdoor Play Equipment for Kids, Unique Birthday Gift… : Toys & Games
Meredith: Physical Therapy Assistant
"My suggested toy would be the Ultra Dash- Active Tagger Game. This game is a great option for promoting gross motor function. Separate the colors throughout the house or yard and have them run, hop, jump, or skip to get to the base in time. They will have a fun time beating the clock while also engaging multiple body systems, encouraging leg and core strength, coordination, and motor planning."
Amazon.com: Ultra Dash—Active Tagger Game with 3 Racing Modes—Lights and Sounds—Ages 6+ : Toys & Games
Amanda: Physical Therapy Assistant (Amanda gave us all the details!)
"When choosing a gift for your child, it is important to consider where your child is
developmentally and physically and what goals they are striving to meet. Overall, my favorite
toys for children are simple, with no buttons, batteries, or fancy lights. Most therapists prefer
toys made of wood instead of plastic, this gives the objects more weight. When selecting a toy
think about how the child will play with it and does it cause the child to problem solve, utilize
weak muscles, work on coordination or be creative.
Here are some ideas:
Babies or children who aren't yet walking:
We LOVE tummy time!
-Play mats (water filled or gel filled)
-floor Mirrors or mirrors that can prop up to encourage the child to lift their head
-rattles
-pop beads (for upper body strengthening, pulling apart)
-ring stacker
-simple ball
-Bumbo chair for sitting if appropriate
-Simple push toy (heavy enough for child's weight)
-Pull to stand activity table
-Tunnel for crawling through

For children who have more stability and motor control:
-Rody bouncing horse (requires supervision)
-Tricycle
-Play Kitchens (role play and squat to stand)
-Pull toys (puppy on a leash)
-Race cars that you can pull back to make race
-Possibly mini trampoline.
-Shape sorter
I do not recommend children with low muscle tone or who are hypermobile ("double-jointed")
to get trampolines due to increased risk of injury."

While these are general recommendations, each child has different needs. If your child is
receiving therapy services, we encourage you to talk to the therapist and ask if there are any
specific toys that could possibly help your child meet their goals!
Happy Holiday Shopping!